Athletic Brewing Co.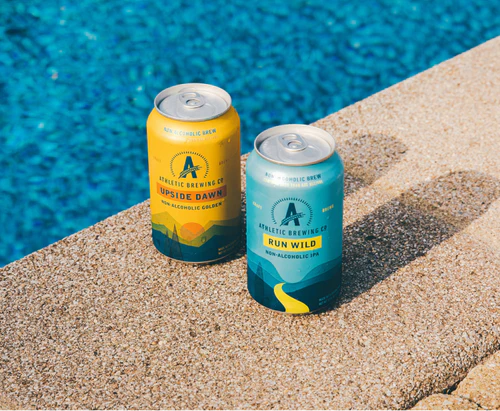 Tags:

Beer
Non-Alcoholic
DTC
Athletic Brewing Co.
Perfect for a Craft Beer drinker looking to limit their alcohol intake, Athletic Brewing Co. has good variety and the taste is on par with other craft beers.
Background:
I'm not here to shame anyone, I like beer as much as the next person but not all beers are equal. Let me start by sharing about the best beer I've ever had. This double IPA tasted like pineapple 🍍 but it had a hefty ABV.
As I rolled into my thirties, I noticed a negative pattern in my sleep when drinking beers like this. Drinking any alcohol an hour or so before bed and I can't sleep well.
Eventually, I realized that the enjoyment of having a beer or a cocktail didn't outweigh the negative impact on my sleep. So I began to cut back on that (and eating late at night) to improve my sleep. I'll still have a drink, but less alcohol has been a better choice for me.
It's been good to cut back, but I miss the actual flavor of the drinks, they are delicious. I've tried a few zero-alcohol spirits and 0% ABV beers with mixed results. I'm not going to settle for a bad flavor simply because I miss having my alcoholic beverages.
Along that journey I saw Athletic Brewing Co. I tried a couple of their IPAs and I was very impressed with both the taste. The flavor is exactly what I want. Hoppy and sweet, complex but not too bitter and without the poor aftertaste that I'd found in others.
The best part is it doesn't seem to disrupt my rest so I can have one whenever! No fear of it ruining my sleep or making it difficult to get up the next morning.
Selection:
They run several beers all the time, several IPAs, a Mexican-style Lager, a "Lite" beer, and some dark beers. Also, there are some "hoppy" seltzers. Let me know what your thoughts are on our Twitter post!
The Company:
Athletic Brewing Co. is headquartered out of Stratford, CT with a second brewery in San Diego, CA. They claim to be the only two dedicated non-alcoholic breweries in the world. Their story is similar to mine. Their founder began focusing on his health without sacrificing something you enjoy. They team up with lots of athletic endeavors like IRONMAN.
I have only had one experience with customer service so far and it was a positive one. My second shipment arrived damaged, with one of the cans broken and spilled (probably a delivery error) and they promptly offered to send a replacement.
Buy It