Ember Mug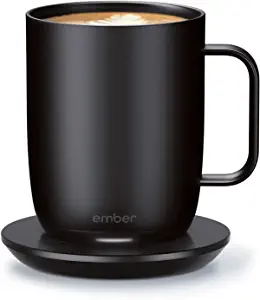 Tags:

Coffee
Office
Smart Home
Ember Mug
Does your coffee cup "need" an app? No. But the practical use of this mug and its easy "set it and forget it" ability make it a wonderful day to day product to use.
Background:
I received my Ember Mug as a gift from work. I never purchased one because it had always seemed like an unnecessary product.
Does my coffee cup really need an "app"? Absolutely not. But I would obviously accept one as a gift.
The coffee person in me met the side that loves to set up new tech gadgets and had a great time.
I fiddled with the app just enough to get it set to the temp I like and hadn't opened it in months (until I started writing this review)
I've got the mug and charging plate setup on my desk and now I use it every (work)day.
Features
The Ember Mug has a rechargeable heating element built into the base. It also has a Bluetooth connection to an app on your phone.
The mug itself is a standard ceramic mug. It's a little heavier than a normal mug, but not by much.
The app allows you to set the temperature of the mug and it will maintain that temperature. That temperature will be consistent for as long as it has battery or is on the charging plate.
There is a safety feature that will turn the mug off if it's not on the charging plate for too long. You may have experienced a coffee pot sitting on a warmer too long, its disgusting.
I have mine set to 130 degrees. That's the perfect temperature for me.
The App
The app is mostly good for setting your preferences, checking battery life, and updating the firmware.
In all honesty, I never use the app. It works great, but I don't need to fiddle with the settings much.
For a product like this, I find the app refreshingly well done. It has a simple interface and allows me to set my preferences and forget about it.
Products
Ember makes a several different sizes. They have 10oz and 14oz mugs and a 6oz "cup" (no handle) that is perfect for cappuccinos.
They also have a 12oz travel mug that boasts a 3 hour battery life. I find it a bit odd that the travel mug doesn't come with the car charger, but they do make one you can purchase separately.
One thing I'd note. I don't really recommend the white products. They look great, but I've found it impossible to get the coffee stains out even with Cafiza... Go with one of the other colors.
See all Ember Products