Fisher Space Pen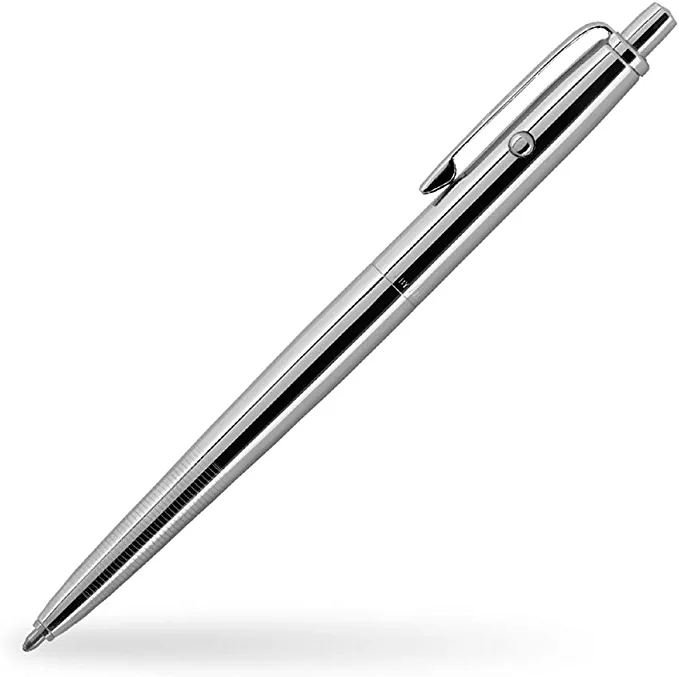 Tags:

Office
BIFL
Under $35
Fisher Space Pen
This pen has been to the moon and back. It can be used in extreme conditions, but has easy ink refills. The original "buy it for life" pen will last a lifetime.
Background:
Disposable, single-use pens are terrible. They create clutter in our "junk drawers" or pen cups on our desk.
If your home is like mine, you have pens from a decade ago that may or may not even work. But we both know it won't work when the pressure is on.
The Fisher Space Pen solves all these issues with a quality product that hits the "buy it for life" threshold.
The Company
Fisher Space Pens are the most innovative writing utensil of the 20th century. They created a pen that can write upside down, underwater, even in zero gravity.
The company has been around since 1948. Their first innovation was a universal refill cartridge that removed complexity for sellers.
Best known for the "pressurized cartridge". Patented in 1967 for the original "anti-gravity pen". This led to the AG7 Fisher Space Pen that went on space on Apollo 7.
The Bullet Space Pen also a part of the New York Museum of Modern Art's permanent collection.
Suggested Models
The Bullet Space Pen is small enough to fit into your pocket or purse. It can also come with a clip. This Bullet comes in many color options, but I'm partial to the "matte black" and "tahitian blue". Priced at under $30 without the clip or $33 with the clip.
The AG7 Space Pen is "The Original Astronaut Pen". These come in either chromed brass or titanium nitride finish with a click mechanism. This one is a bit pricier at $67 for the chrome or $97 for the titanium.
These pens are more expensive than your standard Bic or Pilot, but they should last you a lifetime. The only need is an occasional refill.
Speaking of refills, they are easily available from Amazon. Fisher claims their ink cartridges to last three times longer than a standard ink
AG7 Space Pen