Reusable Mesh Storage Bags (w/ Zipper)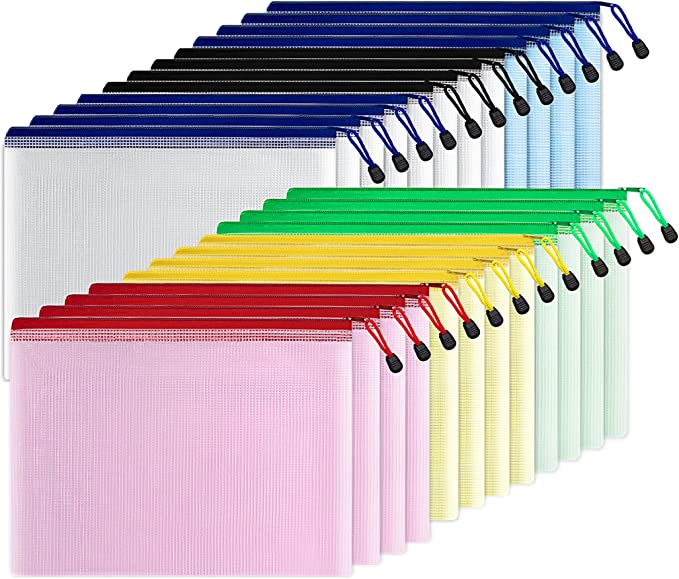 Tags:

Storage
Organization
Under $30
Reusable Mesh Storage Bags (w/ Zipper)
These reusable storage bags come in multiple colors and sizes so you can store almost anything. And with a clear translucent color, you can easily identify the treasures inside.
Background:
Our family has two young kids and an adult who loves Lego (it's me!). Our floors are a minefield of pain and agony.
I also hate to keep things in a box or tote where they inevitably get lost or forgotten. You know that sad toys that get covered in glitter, dust, and other unknown sticky substances.
Enter these reusable zipper bags!
They aren't massive bags but we have found tons of uses for them.
Barbie clothes, shoes, accessories storage
Board game storage (saves space as well)
Lego Sets + Instruction Booklet Storage
School or Art Supplies Organization
Features
These are translucent "see through" storage bags. Making it easy to know what is inside.
They come in a variety of colors, which can be helpful for organizing groups of bags.
Comes in several sizes: 9x13", 10x14", and 11x16". We opted for the medium size. Which is actually 10.5x14.5", when empty and flat. There is also a multi-size set that offers smaller bags.
Sturdy and flexible. They aren't going to have a hole poked in them if you store sharpened pencils or scissors inside.
The zipper makes them easy to open and close, also unlikely to spill smaller pieces (I'm looking at you bead kits).
Drawbacks
Plastic. I generally hate plastic and try to avoid it. So, when I began looking for Lego storage I wanted bags made of canvas. However the plastic does make the bags translucent. Now I don't have to unzip every bag looking for the correct items.
I did have an issue with the zipper on one of our bags because the zipper pull ran off the end. It took a few minutes, but I got it back on and its goods as new.
Get Organized